SY0-501|Common questions about CompTIA Security+ certification
As we all know, almost all current Internet-based applications, such as websites, various types of networked programs, etc., have large and small security holes. The user's information security is facing serious damage, and even a lot of extremely high-value information including the user's credit card information also has great hidden dangers. In such a social environment, IT security is an indispensable prerequisite for any application with a large number of users, which greatly promotes the development of CompTIA Security+. Let's take a look at some common problems with CompTIA Security+. By answering these common questions, we may understand why more and more people have chosen CompTIA Security+?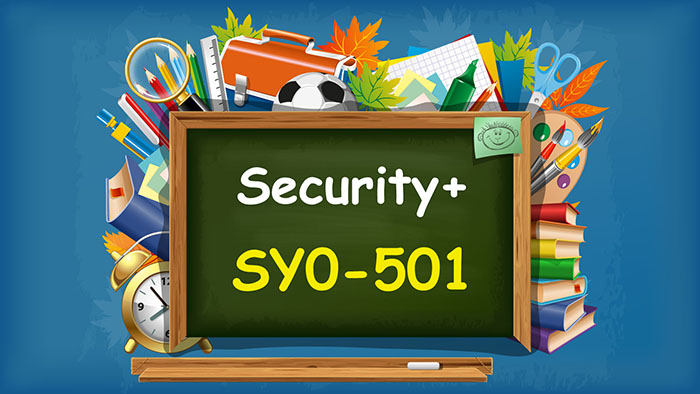 1. First to know what CompTIA Security+ is.
CompTIA Security+ is a global certification that verifies the basic skills you need to perform core security functions and pursue an IT security career.
CompTIA Security+ is a security certification that every IT professional wants. It establishes the core knowledge required of any cyber security class role and provides a springboard for mid-level network security efforts. Security+ incorporates best practices from practice to troubleshoot to ensure that security professionals have the actual ability to resolve security issues. The most basic aspect of a network security professional with Security+ is to know how to resolve all types of security incidents and have the appropriate hands-on capabilities, not just to identify security incidents.
2. What are the characteristics of CompTIA Security+?
1) There are no performance-based issues in other certification exams that assess baseline cybersecurity skills. CompTIA Security+ emphasizes practical skills to ensure that security professionals are better prepared to solve broader problems.
2) Security+ focuses on the latest trends and technologies in risk management, risk mitigation, threat management and intrusion detection.
3) More choose Security+ for DoD 8570 compliance than any other certification.
4) In addition to the working roles of former system administrators, network administrators, and security administrators, the new Security+ SY0-501 certification also covers junior IT auditors, penetration testers, and other work roles.
3. How is CompTIA Security+ certification gold content?
1) Security+ itself has qualifications because Security+ is ISO certified and approved by the U.S. Department of Defense.
CompTIA has submitted the Security+ exam (SY0-501 exam) and the ISO has reviewed the ISO 17024 standard, which has approved the SY0-501 exam process. In addition, the U.S. Department of Defense has approved the exam to fulfill its directive 8570.01-M skill requirements. Finally, Security+ SY0-501 complies with the Federal Information Security Administration Act (FISMA) and government regulations.
2) Security+ is developed by the industry
Security+ (as with all other CompTIA certification exams) is developed and maintained by industry-leading IT experts. Both the test objectives and the skills tested in the tests are derived from industry-wide surveys and contributions from the CompTIA subject-matter team.
3) Security+ good employment prospects
At present, the demand for talents in the talent market for IT security is increasing, and there is a large talent gap in the field of IT security. Those who have successfully obtained the security plus certification will have more job opportunities and more development opportunities.
4) Security+ has a high income potential
According to CompTIA and the Bureau of Labor Statistics (BLS) statistics, security professionals including security experts, managers, and managers are paid more than most industries every year. Security+ is a worthy and in-depth development direction.
4. What capabilities will we have through learning CompTIA Security+?
1) threats, attacks and vulnerabilities
Detect various types of compromises and understand penetration testing and vulnerability scanning concepts
1) Identity and Access Management
Install and configure identity and access services and management controls
2) Technology and Tools
Install, configure and deploy network components while assessing and resolving issues to support organizational security
3) Risk Management
Implement and summarize risk management best practices and business impact
4) architecture design
Implementing a secure network architecture concept and system design
5) Password and PKI
Install and configure wireless security settings and implement public key infrastructure
The simple point is: We will be able to determine the strategies and deployment defense measures developed by cyber attackers to attack the network and hosts, understand the principles of organizational security and the elements of effective security policies, and can install and configure network and host-based security. Technology, understanding of the cryptography standards and technologies and uses of products, the ability to describe standards and products that enhance the security of Web and communications technologies, and how to enforce wireless and remote access security, can determine strategies for ensuring business continuity, fault tolerance, and disaster recovery. Ability to summarize application and coding vulnerabilities and identify development and deployment methods designed to mitigate vulnerabilities.
If you are sure that you have the above capabilities, then the next step is to take the SY0-501 exam. Only successfully passed the SY0-501 exam, you can obtain the Security+ SY0-501 certification. Only by obtaining a certificate of certification can you become qualified to become a qualified IT security expert.
5. About Security+ SY0-501 exam
1) What experience should the personnel participating in the SY0-501 exam have?
CompTIA Network + and two years of security-focused IT management experience.
2) Dumpsbase CompTIA SY0-501 Dumps.
As CompTIA SY0-501 Dumps with the highest authority, best reputation, and highest pass rate in the industry, DumpsBase's CompTIA SY0-501 Dumps has been unanimously favored by a large number of candidates.
3) What will be proven after we successfully pass the CompTIA Security+ SY0-501?
Successfully passing the CompTIA Security+ SY0-501 will prove that we already have the knowledge and skills required to install and configure systems to protect applications, networks and devices; perform threat analysis and respond with appropriate mitigation techniques; participate in risk mitigation Activities and operate under the awareness of applicable policies, laws and regulations. Successful candidates will perform these tasks to support the principles of confidentiality, integrity and availability.
It should be noted that the CompTIA Security+ SY0-501 exam will be continuously updated to better reflect current risk management and risk mitigation best practices. These include: More emphasis on identifying and dealing with security threats, attacks and vulnerabilities in practical and hands-on capabilities.
The skills covered by Security+ have become the benchmark for all cybersecurity efforts. The continuous updating of the version also reflects that the network security work is becoming more and more specialized. At the moment, the importance and needs of Security+ for a broader work role are increasing.
6. What qualifications do we possess after obtaining the Security+ SY0-501 certification?
1) Network administrator
This kind of work requires a lot of practitioners, but it does not require you to be proficient in all knowledge. Although the treatment is not too rich, it is definitely a good choice for accumulating experience.
2) System administrator
It is similar to the work of the network administrator.
3) Security Administrator
In general, if you want to engage in such jobs, you must have a certain depth and breadth of Security+ related knowledge and hands-on skills. Relatively speaking, all aspects of treatment will also be significantly improved.
4) Elementary IT Auditor/Penetration Tester
In general, such jobs require practitioners to have comprehensive computer hardware and software knowledge, have unique sensitivities to network and system security, and have a deeper understanding of financial accounting and unit internal control.
5) Security experts
The future of this position is very good, and the salary is very strong. In general, not only do individuals have higher requirements for their comprehensive ability, but they also have higher requirements for their personal work experience.
Therefore, after we have just obtained the Security+ SY0-501 certification, we must not be too ambitious. We must be down-to-earth, honing our skills in basic positions, and accumulating relevant work experience. Whenever our ability reaches a corresponding level, we will usher in opportunities for advancement.
6) Safety Engineer
7) security consultants, etc.
Therefore, after we obtained the Security+ SY0-501 certification, there will be many job selection opportunities. As long as we exercise our skills, the future will be limitless.
CompTIA Security+ is an incredibly dynamic field that creates new opportunities and challenges every day. Only by mastering the latest technology and evolving new technologies can it become a popular IT and security expert.