CompTIA Data+ Certification Exam Real DA0-001 Dumps Online [2022]
Every candidate focusing on CompTIA knows that the DA0-001 exam was launched in February of 2022 for the CompTIA Data+ Certification exam. When preparing for the CompTIA Data+ Certification DA0-001 exam, candidates are recommended to choose real CompTIA DA0-001 dumps of DumpsBase as the learning materials. The real CompTIA Data+ DA0-001 dumps are created by the top experts and specialists of DumpsBase who have spent a lot of time and energy on the CompTIA Data+ exam skills and knowledge. Just choose to learn all the DA0-001 dumps questions and answers, and we ensure that you can pass the CompTIA Data+ certification exam successfully on the first try.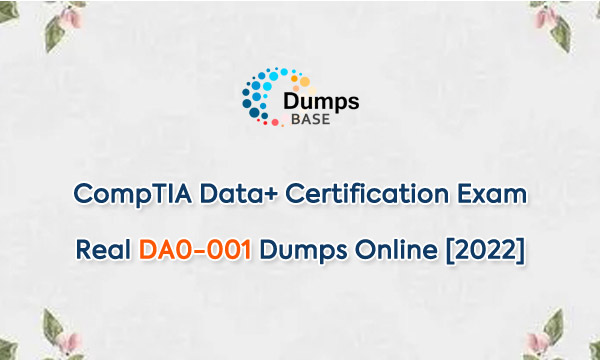 What is CompTIA Data+ certification?
CompTIA Data+ certification is the new subject of CompTIA, which is an early-career data analytics certification for professionals tasked with developing and promoting data-driven business decision-making. It gives you the confidence to bring data analysis to life. Additionally, the CompTIA Data+ certification will make you different from others:
Better Analyze and Interpret Data: My data more effectively. Analyze with rigor. Avoid confounding results.
Communicate Insights: Highlight what's important. Produce reports that persuade, not confuse. Help the team make better data-driven decisions.
Demonstrate Competency: Make yourself a more valuable team member. Proof of data literacy means you're more employable and more upwardly mobile.
The CompTIA Data+ exam will certify the successful candidate has the knowledge and skills required to transform business requirements in support of data-driven decisions through mining and manipulating data, applying basic statistical methods, and analyzing complex datasets while adhering to governance and quality standards throughout the entire data life cycle. With DumpsBase DA0-001 exam dumps, you can learn all the exam details and skills, then pass the CompTIA Data+ certification exam successfully.
What are the DA0-001 exam details?

Before choosing DumpsBase DA0-001 exam dumps as the preparation materials, you need to know all the exam details. The real CompTIA DA0-001 exam contains 90 questions, including multiple-choice and performance-based. Candidates have 90 minutes to answer all these questions. CompTIA recommends 18–24 months of experience in a report/business analyst job role, exposure to databases and analytical tools, a basic understanding of statistics, and data visualization experience.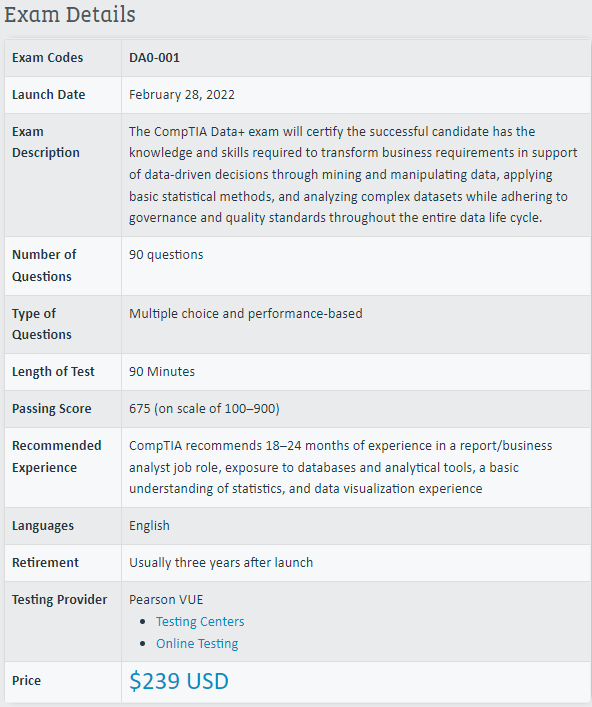 The real DA0-001 dumps of DumpsBase are wonderful for your preparation, which will help you achieve your goal:
Exam Code: DA-001
Exam Name: CompTIA Data+ Certification
Exam Version: V8.02
Exam Q&As: 180
Exam Formats: PDF File & Free Software
CompTIA Data+ exam students who have DA0-001 exam dumps questions possess a larger possibility of acquiring a worthy job inside the industry. That's the motivation for DA0-001 exam students to persuade them towards acquiring the CompTIA certifications as well as the scope of having the CompTIA DA0-001 exam is escalating swiftly. DA0-001 exam clarifies CompTIA's students to critically resolve the issues concerning to CompTIA Data+ exam with efficiency and with no confusion. From right here you will get the authentic DA0-001 exam dumps that are with actual DA0-001 dumps questions and answers to assist you with acquiring ready. Via these amazing CompTIA DA0-001 pdf dumps and the skills, you need to know to pass the CompTIA Data+ exam. The DA0-001 real exam dumps are accessible on laptops and mobiles so you can get the genuine preparation with comfort. All of the DA0-001 pdf dumps questions possess the most effective program and instruction.