Updated CompTIA PenTest+ PT0-001 Dumps - You Can Get To Do The Best Preparation
Do you know the CompTIA PenTest+ certification exam? CompTIA PenTest+ is the only penetration testing exam taken at a Pearson VUE, which is for cybersecurity professionals tasked with penetration testing and vulnerability management. According to the recent reviews, we checked that PT0-001 exam for CompTIA PenTest+ certification has been updated. Based on the latest PT0-001 exam objectives, we updated CompTIA PenTest+ PT0-001 dumps with 189 practice exam questions and answers. You can get the most updated CompTIA PenTest+ PT0-001 dumps as the best preparation materials with 100% passing guarantee.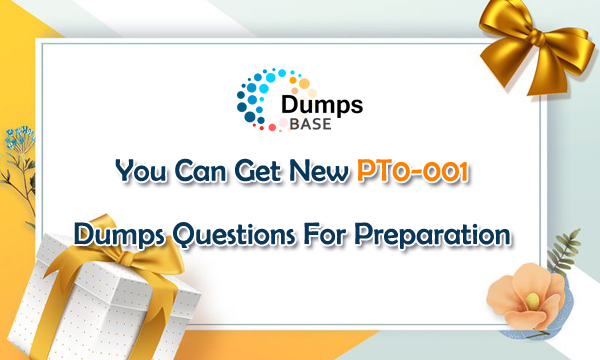 CompTIA PenTest+ (PT0-001) Is Different, Which Is Unique
CompTIA PenTest+ certification is unique because it requires a candidate to demonstrate the hands-on ability and knowledge to test devices in new environments such as the cloud and mobile, in addition to traditional desktops and servers. Every candidate can be ensured that he/she possesses the skills, knowledge, and ability to perform tasks on systems. Also, it includes management skills used to plan, scope, and manage weaknesses, not just exploit them.
● CompTIA PenTest+ assesses the most up-to-date penetration testing, and vulnerability assessment and management skills necessary to determine the resiliency of the network against attacks.
● Successful candidates will have the intermediate skills required to customize assessment frameworks to effectively collaborate on and report findings.
● Candidates will also have the best practices to communicate recommended strategies to improve the overall state of IT security.
CompTIA PenTest+ (PT0-001) Exam Prerequisite
Based on the PT0-001 exam description and exam details, there is no required prerequisite, PenTest+ is intended to follow CompTIA Security+ or equivalent experience and has a technical, hands-on focus. However, there is recommended experience required:
● Network+, Security+ or equivalent knowledge.
● Minimum of 3-4 years of hands-on information security or related experience.
All these can help you answer maximum of 85 questions including performance-based and multiple choice. Also, you are highly recommended to choose the most updated CompTIA PenTest+ PT0-001 dumps as the preparation materials to prepare for your exam well.
CompTIA PenTest+ (PT0-001) Exam Is Available In English and Japanese
CompTIA PenTest+ PT0-001 exam is available in English and Japanese. You can register CompTIA PenTest+ PT0-001 exam at Pearson VUE. But When you choose DumpsBase PT0-001 exam dumps, you only can get the updated CompTIA PenTest+ PT0-001 exam dumps in English. Get the updated CompTIA PenTest+ PT0-001 exam dumps for the most demandable CompTIA PenTest certification exam preparation. You are going to also enjoy free of charge updates of CompTIA PT0 001 dumps questions and also the 100% CompTIA PenTest+ passing surety.