Salesforce Platform Developer Certification (PDI & PDII) Exams - Valid Dumps For Preparation
Getting valid dumps to prepare for your Salesforce PDI and PDII exams can be your study guide for preparation. We DumpsBase have updated both PDI exam dumps and PDII dumps questions online to help you prepare for your Salesforce Developer certification exams well.

DumpsBase Platform Developer I PDI Exam Dumps Features
Certification: Salesforce
Exam Code: PDI
Exam Name: Platform Developer I
Exam Version: V12.02
Exam Q&As: 297
DumpsBase Platform Developer II PDII Exam Dumps Features
Certification: Salesforce
Exam Code: PDII
Exam Name: Salesforce Certified Platform Developer II
Exam Version: V14.02
Exam Q&As: 396
What is the relationship between PDI and PDII exams?
All Salesforce certifications are devided into six role-based categories, including Salesforce Administrator, Salesforce Architect, Salesforce Developer, Salesforce Markerter, Salesforce Consultant and Salesforce Designer. Both Platform Developer I PDI exam and Platform Developer II PDII test are the Salesforce Developer certification exams. Currently, there are 8 Salesforce Developer Credentials as listed:
● B2C Commerce Developer
● Industries CPQ Developer
● JavaScript Developer I
● Marketing Cloud Developer
● OmniStudio Developer
● Platform App Builder
● Platform Developer I
● Platform Developer II
Among all these 8 Salesforce Developer Credentials, Platform Developer I certification exam is intended for individuals who have knowledge, skills, and experience in building custom applications on the Lightning Platform. It encompasses the fundamental programmatic capabilities of the Lightning Platform to develop custom business logic and interfaces to extend Salesforce using Apex, Visualforce, and basic Lightning Components. Earning Platform Developer I certification requires to pass PDI exam successfully. For more, there are available classes and workshops for preparing PDI exam well:
→ Trailhead Virtual Bootcamp for Platform Developer I (TVB450)
→ Build Applications Programmatically on the Salesforce Platform (DEX450)
→ Prepare for your Platform Developer I Certification Exam (CRT450)
Platform Developer I PDI exam is the prerequisite to Platform Developer II PDII exam. Platform Developer II certification is designed for individuals who would like to demonstrate their skills and knowledge in advanced programmatic capabilities of the Lightning Platform and data modeling to develop complex business logic and interfaces.
What is the correct path of earning Platform Developer II certification?
Except earning Platform Developer I PDI exam as the prerequisite, the Platform Developer II certification consists of several parts: the Apex Specialist, Data Integration Specialist, and Advanced Apex Specialist Superbadges, and the Platform Developer II PDII proctored multiple-choice exam.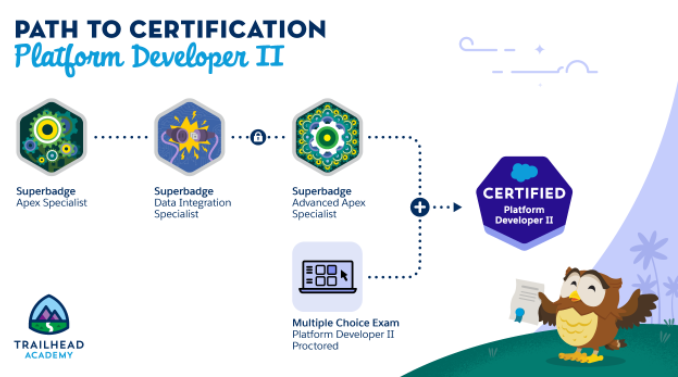 What can one get from DumpsBase for PDI and PDII exams?

At DumpsBase, you can get the valid PDI exam dumps and latest PDII dumps questions to complete your Salesforce Developer certifiations. You can benefit from DuumpsBase:
1) Get Real Dumps Questions. Both PDI real exam dumps and PDI real dumps questions are online for your reading, then prepare for them well.
2) Download PDF File Instantly. At DumpsBase, PDI dumps pdf file and PDII dumps questions pdf can be downloaded instantly after your payment completed.
3) Receive Free Software Via Mail. DumpsBase privides customers with free software to simulate the real exam environment. You will receive PDI and PDII free software via mail during working days.
4) Read Free Dumps Online. We highly recommend to read PDI free dumps and PDII free dumps online to check the high-quality and highly-reliable dumps questions.
5) 100% Success Guarantee. Using PDI dumps and PDII exam dumps is effective to help you pass the required exam with 100% success guarantee.
6) One-Year Free Update. Exams are always updated and changed. At DumpsBase, you can get the most updated PDI exam dumps and PDII dumps questions for free in one year.
7) 100% Money Back Policy. There is no chance, but if your PDI and PDII exams fail with DumpsBase, you can choose to change another exams instead or choose 100% money back.