New language exam versions will be added for Huawei certifications
There are only Chinese and English versions exam of Huawei currently. In order to meet most of the candidates to get Huawei certification all over the world, Huawei announced the latest news about the increasing number of exam test languages. 
From the picture, we could easily know some hot Huawei certification exams will be first released in different languages versions.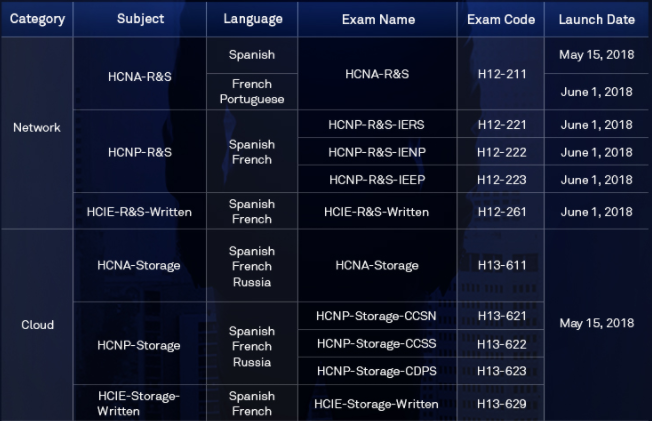 For some hot subjects in Network and Cloud there are only 10 exams will be in different languages. HCNP-R&S, HCIE-R&S-Written and HCIE-Storage-Written in Spanish and French will be available. HCNA-Storage and HCNP-Storage certification in Spanish, French and Russia will be available on May 15, 2018.
So now from today Huawei examinees worldwide can make appointments on the Prometric platform for written exams in each could be available languages. 
By the way, if you decide to take Huawei certification exam you need spend time preparing for your exams. Don't FORGET DumpsBase Huawei Dumps Questions could give you a urgent hand in making your success.