JumpCloud Certification JumpCloud-Core Dumps Questions 2021
JumpCloud Core Certification Exam help you move ahead in your career. When you prepare for JumpCloud-Core exam to complete JumpCloud Core Certification Exam, JumpCloud-Core Dumps Questions have been released online for you. The top experts have collected 68 practice exam questions and answers based on the Cloud Core exam topics. It must be clear that with DumpsBase JumpCloud-Core dumps questions, you can pass JumpCloud Core Certification Exam successfully. By choosing DumpsBase JumpCloud-Core dumps questions, you also beed to know the basic knowledge points of JumpCloud Core Certification Exam.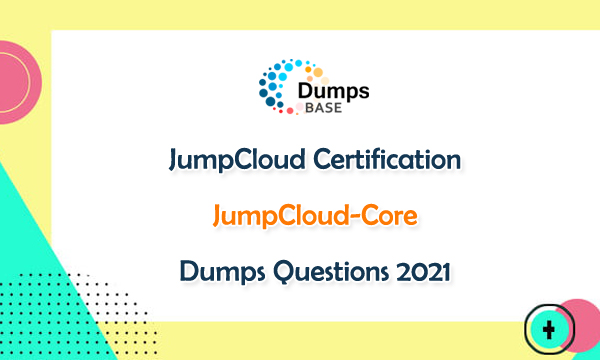 What is JumpCloud Core Certification Exam?
JumpCloud is so great globally which changes the way IT administrators manage their organizations by providing a comprehensive and flexible cloud directory platform. From one pane of glass, manage user identities and resource access, secure Mac, Windows, and Linux devices, and get a full view of your environment. There are three exams belong to JumpCloud Core certifications: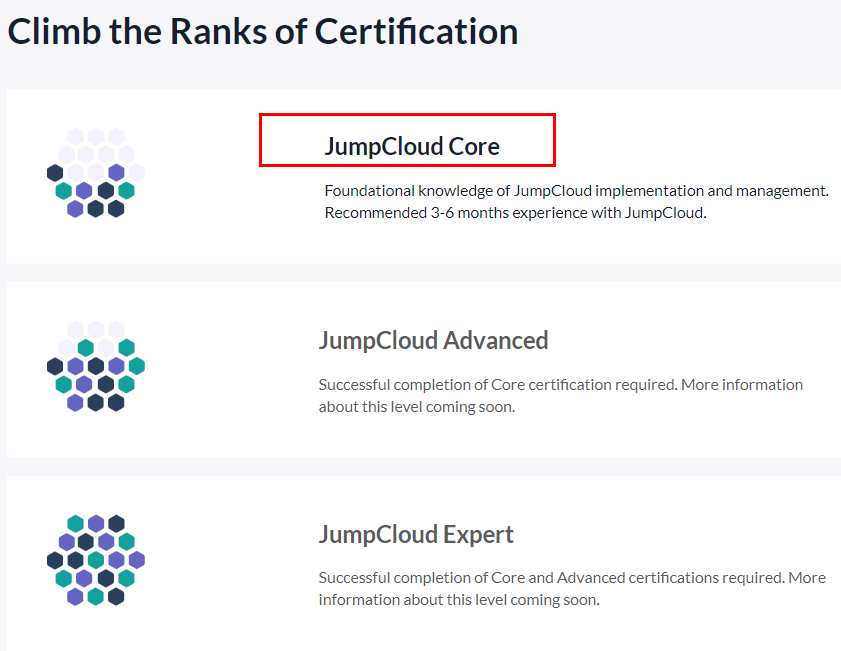 JumpCloud-Core exam validate your general understanding and practical application of the JumpCloud platform and its features. It focuses on the foundational knowledge needed for standard implementation and daily operations of JumpCloud. JumpCloud-Core exam is online assessment via Brillium, which contains 60 questions which are available in English to test the Core certification exam skills. The passing score is 65%. It will assess your knowledge on:
● Admin and User portal functionality, including org settings and password settings.
● Managing users and devices, including directory syncs, MFA, configurations (policies), and commands.
● Configuring resources such as RADIUS, LDAP, and SSO applications.
● Provisioning and de-provisioning user access, including lockout behaviors.
What will be achieved in JumpCloud-Core dumps questions?

Based on the actual JumpCloud-Core exam knowledge points, DumpsBase have collected real Q&As for learning. All the JumpCloud-Core exam questions are shown in a pdf file. You can print out all the questions and answers to read and learn the JumpCloud-Core certification exam questions and answers anywhere and anywhen. Additionally, we provide the software for free. You can review the JumpCloud-Core exam dumps questions with the software to feel the real exam format.
More, we have JumpCloud-Core free dumps online for checking. Below, you can read free JumpCloud-Core dumps questions first:
What field(s) will you enter to securely connect your wireless access point to JumpCloud's RADIUS server(s)? Select all that apply.
A. Admin email address
B. Shared secret
C. RADIUS server IP
Answer: B,C
The following resources allow you to grant user access on an individual user basis AND on a group basis. Select all that apply.
A. RADIUS
B. Directories/LDAP
C. Systems
D. Applications
Answer: A,B,C,D
What status will a user be in if they have been added or imported to JumpCloud but their password has not been set? Select the correct answer.
A. Active (Green)
B. Pending (Orange)
C. Locked (Red)
D. Suspended (Grey)
Answer: B
What requirements will you need to configure an application or resources on the LDAP endpoint? Select all that apply.
A. At least 1 LDAP bindDN
B. Samba auth enabled
C. OrgDN
D. Secure password
Answer: A,C,D
If you unbind, delete, or suspend a user in JumpCloud, the following happens in each resource. Match the action to the correct behavior.
A. G suite/O365 the user's profile is maintained but users cannot log in
B. System the user is logged off and local profile is disabled
C. Applications the user is suspended
D. RADIUS the user is unable to sign back in to the network
Answer: A,B,C,D
MFA via TOTP can be used to secure the following resources. Select all that apply.
A. RADIUS servers
B. User portal
C. Systems
D. Admin p
Answer: A,B,C,D
Can you require MFA to log into the Admin portal? Select the correct answer.
A. Yes
B. No
Answer: A
In order to provision access to a RADIUS server, a user must be associated to a user group that's bound to RADIUS.
A. True
B. False
Answer: B
What encryption protocols does JumpCloud support for VPN RADIUS servers with MFA enabled? Select all that apply.
A. MSCHAP
B. EAP-TTLS/PAP
C. EAP-PEAP/MSCHAPv2
Answer: B,C
System groups allow you to ______. Select all that apply.
A. provision access to directories
B. enforce policies
C. run commands
D. provision access to RADIUS
E. provision access to applications
F. provision access to systems
Answer: B,C,F