Reasons For Getting CISSP Certification
I have noticed that there are many candidates want to earn CISSP certification to ehance their career. It is a good idea. CISSP certification must be the world's premier cybersecurity certification, which is an independent information security certification granted by the International Information System Security Certification Consortium, also known as (ISC)². With a CISSP, you can validate your expertise and become an (ISC)² member, unlocking a broad array of exclusive resources, educational tools, and peer-to-peer networking opportunities. Actually, most candidates want to take CISSP exam, but still do not now why we should do CISSP exam. Today, I will collect the reasons for getting CISSP certification.
What is CISSP Certification?
CISSP certification exam, which full name is Certified Information Systems Security Professional, is launched by (ISC)². The CISSP designation is a globally recognized, earning the CISSP proves you have what it takes to effectively design, implement and manage a best-in-class cybersecurity program. The biggest advantage of getting CISSP certification is that prove your skills, advance your career and gain the support of a community of cybersecurity leaders here to support you throughout your career. More and more hiring organizations often look for candidates who have passed CISSP exam because candidates with the CISSP credential are sufficiently knowledgeable about cybersecurity to be able to pass the certification exam, and have hands-on experience and, potentially, formal CISSP training.
How to become CISSP Certified?
In the communication with customers, I found most candidates made a biggest mistake. They always thought that just pass CISSP exam, then they can get CISSP certified. Becoming CISSP-certified requires more than passing the Certified Information Systems Security Professional certification exam. In my opinion, passing CISSP exam is just one part of getting CISSP certified.

Prerequisite
Candidates are required to have a minimum of five years of full-time, hands-on experience in at least two of the eight cybersecurity knowledge domains.
Four Steps to Complete CISSP certified
Step 1: Be sure that the CISSP credential is the right credential for you.
The (ISC)² recommends CISSP certification for candidates who are experienced cybersecurity practitioners, listing a number of positions for which the CISSP would be appropriate, including chief information security officer, chief information officer, director of security, IT manager, security systems engineer, security analyst, security manager, security auditor, security architect, security consultant and network architect.
Step 2: Pass CISSP Exam
To earn the CISSP credential, the candidate must pass the CISSP certification exam.

Step 3: Obtain an endorsement
Once you pass CISSP certification exa, you need to complete the CISSP exam agreement, subscribe to the (ISC)² code of ethics, answer background qualification questions and receive an endorsement from an active (ISC)² certified professional.
Step 4: Be Prepared for an Audit
It is crucial that you do not fabricate or exaggerate in your CISSP application process, especially since the (ISC)² randomly selects (ISC)² certified individuals for auditing. If you are found to have falsified any of your application data, consider the revocation of your CISSP title a foregone conclusion. Honesty is a core principle of the (ISC)² Code of Ethics, which you also must affirm during your application process.
More, to maintain the CISSP certification, candidates are required to earn at least 40 Continuing Professional Education (CPE) credits each year and pay an annual maintenance fee of $85.
How to pass CISSP exam?
Now you are preparing for your CISSP exam, I just collected all exam details to help you prepare well.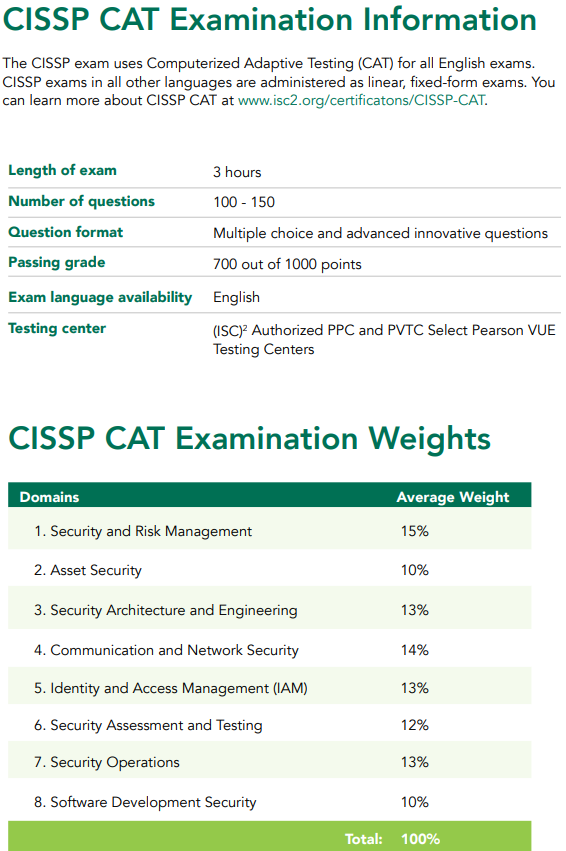 Great CISSP exam dumps can help you prepare for Certified Information Systems Security Professional exam well. CISSP exam dumps are the perfect way to prepare for CISSP exam with good grades in the just first attempt. Time and Time again I have noticed every individual wants to prepare CISSP exam but they don't have an idea which platform they have to choose for the preparation of CISSP exam. So you have to choose an online platform which gives you the best study material for the CISSP exam. If you easily found it then I am sure you will get good grades in the just first attempt.

Reasons for Getting CISSP Certification
There are many benefits why one could try to get CISSP certification as I listed:

Universally Recognized

CISSP certified is the world's premier cybersecurity certification, and multiple sources have confirmed the CISSP certification as being one of the most recognized certifications in the IT industry.

Higher Salary

According to the Global Information Security and Workforce study, CISSP professionals earn a worldwide average salary that is 25% more than that of their non-certified counterparts. This is the key point for more candidates to apply for CISSP Certified.

Increased Spending In IT Security

With a CISSP certification, you are assured of a place at the very front of the queue as increased spending begins to translates to IT security hiring sprees.